Parents Television Council Reviews
PTC reviews aim to provide you with advanced information about an entertainment offering so that you can be the final arbiter of what you and your family see.

---

| | |
| --- | --- |
| Get new reviews sent to your inbox! | |
| | |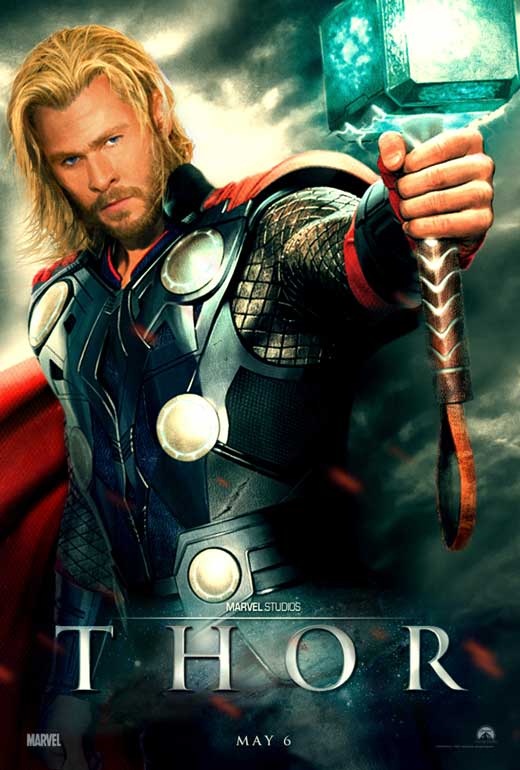 Thor
By Christopher Gildemeister
Release Date: May 6, 2011
MPAA rating: PG-13
Starring: Chris Hemsworth, Natalie Portman, Tom Hiddleston, Anthony Hopkins
Recommended age: 13+
Overall PTC Traffic Light Rating: Green
| | |
| --- | --- |
| Sex | Kissing, brief partial nudity |
| Violence | Fistfights, swordfights, crashes, explosions, fantasy violence |
| Language | "damn," "hell" |
| Behavior | Brief references to drinking and drugs |
Far beyond the stars lies the shining kingdom of Asgard, home to beings that the ancient Norsemen worshipped as gods. There, under the wise leadership of their king Odin, the "gods" live in peace; but their headstrong prince, the mighty "god" of thunder, Thor, longs for battle and glory. When Thor's scheming brother Loki tricks him into inciting a war with the frost giants, Thor is stripped of his "godly" powers and exiled to Earth as a mortal. But when Loki sends the gigantic Destroyer to ravage the Earth, it is up to Thor to save his new human friends…and prove himself the greatest of heroes.
In the tradition of superhero movies, Thor contains a great deal of swashbuckling fantasy action and violence: frost giants and monsters are battled with swords and hammers, with some blood being spilled. On Earth, Thor battles soldiers and the Destroyer, with buildings and cars being smashed and blown up. Sexual content is limited to a brief scene of Thor shirtless, and a kiss between him and his mortal friend Jane.
Delightfully, Thor eschews most profanity. Unlike Wolverine and The Incredible Hulk, which featured s-words and other harsh language strewn liberally throughout, Thor is restrained, with only "damn" and "hell" being used. Thor is also shown drinking beer, and has to carry a friend home after a night of (off-screen and implied) carousing.
Thor is a fun-filled, action-packed film in the best superhero tradition, with Good defeating Evil, heroes to cheer for, and plenty of laughs. The Parents Television Council does not recommend Thor for viewers under age thirteen.
---
Family Movie Reviews
The Parents Television Council - www.parentstv.org
---
Have you seen this movie? Comment on this review, Click here!