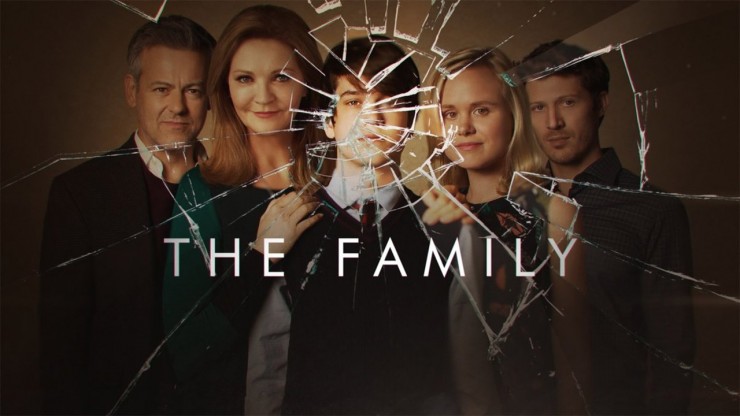 ABC's new Sunday night drama is dreary, disturbing, and not safe for children.
Yet another show from ABC's
default program provider Shonda Rhimes
,
The Family
(Sundays, 9:00 p.m. ET) was created by a former writer from the ShondaLand team, Jenna Bans. ABC's
The Family
is a dreary, flashback-filled crime drama that follows a family after their youngest son, Adam, was abducted. Ten years after the abduction, Adam reappears and everyone's sins of the past start to come to the surface. Despite an interesting premise, the series is seriously lacking the same audience following that other ShondaLand alums have managed to garner in their first seasons.
One reason why The Family
doesn't live up to audience expectation is that every episode so far has been almost completely devoid of levity and humor, which balances out the tension and serious situations in the other shows.
The Family
follows the aftermath of Adam's abduction and how it changed the entire trajectory of the Warren family. The matriarch is Claire Warren, a career politician who has used the story of her missing son as a platform to further herself within the hearts and minds of the American people. Her husband, John Warren, has since become an author and he regularly travels to give lectures about coping with the loss of a child. The other children, now adults, are Danny and Willa. Since Adam's disappearance Danny has become an alcoholic and is often ridiculed by the other members of the family for his perpetual state of drunkenness. Willa seems to have taken the other route and she has become a key member of her mother's campaign staff. When Adam returns, they all react differently to their world's being turned upside down. As Adam tentatively reveals to his family and the authorities the torture that he went through, it is made clear that their troubles aren't over. Older brother Danny is the first in the family to become suspicious of Adam and begins to believe that Adam isn't actually his little brother but someone else entirely. Also suspicious of Adam's story is a journalist named Bridey Cruz who seduces Danny and uses him to find out more information about Adam, and whether or not he is who he says he is.
The most confusing character in the series is Hank Archer, the man accused OF and convicted for Adam's disappearance. He was targeted by authorities because he was a known sex offender and lived across the street from the Warrens. It Is unclear (and that's probably the intention of the show) whether or not Hank is completely innocent of any wrongdoing. He did not abduct Adam 10 years ago, but he is a deeply disturbed individual with a proclivity toward child pornography, as revealed by Detective Nina Meyer when she first questions him. Nina is another character that is difficult to feel sympathy for; she and John Warren had an affair after Adam's disappearance. Her integrity is also in question, since it turns out that she intimidated Hank into confessing to Adam's abduction. In one episode Nina shoots and kills an unarmed man who abducted a young boy, and then she plants a gun on him so that she won't be questioned about her motives. No one in this series is who they say they are; and it is increasingly difficult to relate to each character as their secrets are revealed.
The structure of the series is hard to grasp as well. Each scene jumps back and forth between the present day and events ten years prior that led up to Adam's abduction. Many secrets are revealed in these flashbacks, but they break up the story in a disjointed way which may leave viewers more confused than informed. The first season of ABC's murder mystery series Secrets and Lies
also used the flashback/flash-forward model to tell the story, but with a lighter tone and a reasonable amount of time between each time jump.
Losing a child in any way is a horrible tragedy that is difficult to recover from; and it is a reality for so many parents. The Family
attempts to reflect on such a tragedy and create a story of lies and intrigue to make it more appealing, but the show has fallen short of this task. The characters are unsympathetic and their motivations are hard to relate to.
The Family
jumps back and forth between a TV-PG rating and a TV-14 rating. Some episodes have scenes including sex and masturbation and other episodes have no sexual content at all. Foul language and brief scenes of violence are also inconsistently portrayed in various episodes. Needless to say,
The Family
is not a show safe for the whole family.